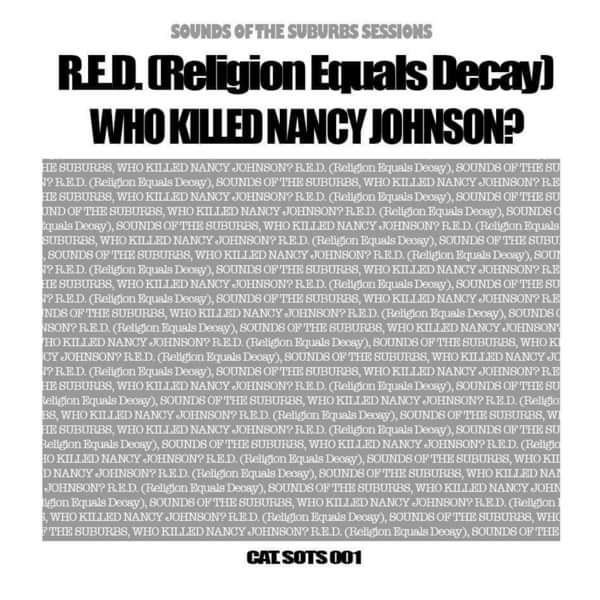 Sounds of the Suburbs Sessions 001
Limited edition 12" vinyl EP
Sounds of the Suburbs Sessions 001 by Who Killed Nancy Johnson? / Religion Equals Decay (R.E.D.)
Released 13th April 2019
Available only on 12" vinyl, and limited to 300 copies - no download or streaming version available. Choose from white, red or black vinyl. Two tracks from R.E.D. (Religion Equals Decay) and two from Who Killed Nancy Johnson? All tracks were recorded specially for this edition.
WKNJ's tracks are: Body Blood in the Soil
Blood in the Soil has never been recorded before and won't be recorded again, so this is the only way to get it.
R.E.D's tracks are: Stomp Frenzy
This is the first release from Sounds of the Suburbs records. All proceeds go towards recording and releasing more vinyl.
Credits: R.E.D. tracks recorded and produced by Smiley at Sunshine Recording Studios, 22nd September 2018. WKNJ tracks recorded and produced by Niall Squire at Cobham Sound, 19th October 2018. R.E.D. side: 1) Stomp, 2) Frenzy, both songs written by R.E.D. WKNJ side: 1) Body (Ball, Moulton), 2) Blood in the Soil (Anthony, Ball, Moulton, Wren). Executive production by Phil Speight and Tony Smith. Mastered by Stu at Mount Street Mastering. Sleeve artwork: Rikki Payne. Photos: R.E.D. and Andrew Merritt. (c) 2019 Sounds of the Suburbs, catalogue no. 001.