London Calling + WKNJ
London Calling + Who Killed Nancy Johnson?
Buy Tickets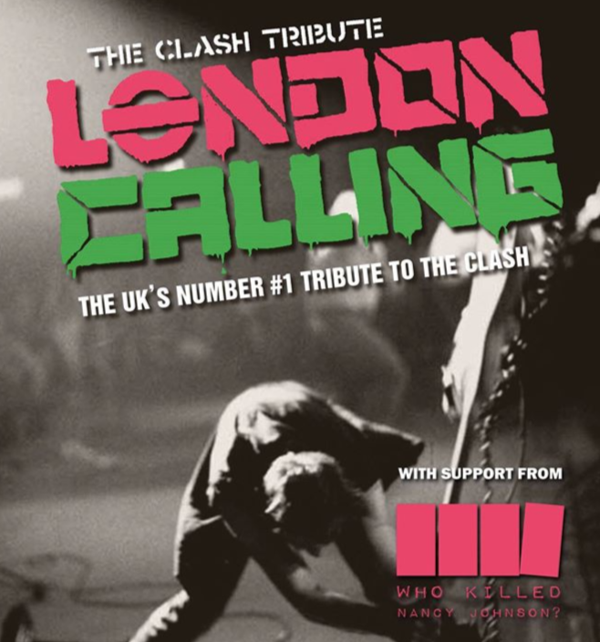 London Calling UK
London Calling was formed in 2004 as a one-off gig for charity and to celebrate the life of Joe Strummer After playing the short (12) song set we were asked to play the whole set again, with half the audience joining us on the tiny stage. We decided to sharpen our act and play regularly from that point. We then were caught up in the infamous texting scandal, in which our then bass player was question by Special branch under suspicion of being a terrorist
After a few years off and several line-up changes, its now settled down to: Reg Shaw aka Joe Strummer, Dave Devonald aka Mick Jones, Joe Guatieri aka Paul Simonon and Shane Tremlin aka Topper Headon. We Have played in the USA and Europe and been in the Julien Temple directed Joe Strummer film biog, The Future is Unwritten. Recently we have enjoyed rave reviews and have been playing to increasingly bigger audiences across the UK.
Who Killed Nancy Johnson?
WHO KILLED NANCY JOHNSON are a Reading-based high-energy punk/post-punk band, and an incendiary live act. Influences range from early British art punk (Wire, Magazine, Gang of Four, Killing Joke) to later US bands like Black Flag, Fugazi and the Adolescents, right up to current acts like No Problem and Idles.
Since 2016 the band has gigged in the UK, Italy and France. Releases so far: Cops and Robbers (EP, 2017), Flat Earth Theory (EP, 2018), Eponymous (compilation album, 2018), They Reap Sessions (EP, 2018), Sounds of the Suburbs split 12" (EP, 2019), Punish the Poor & Clown (EP, 2019). The band's new album, I See Six, is due for release in June this year.
The BOILEROOM 13 Stoke Fields Guildford GU1 4LS
Line Up
London Calling - A tribute to the only band that mattered. Consisting of 4 guys from Bristol, London Calling put on a performance with energy and enthusiasm recreating the sound and intensity of The Clash. All the guys genuinely love the band and put their all into each show. London Calling over some 15 years have gigged all across the UK, Europe and the USA. After reforming in 2014 are the band have toured over consecutive years the 40th anniversary of each album released 2019 saw London Calling performed in Full to sell out crowds across the UK, Ireland, Jersey, Australia and New Zealand 2020 Sees London Calling move forward to perform select hits from Sandinista and other assorted hits from the Clash back catalogue!
Come and catch us at a show near you soon
https://www.facebook.com/clashtribute/
View Profile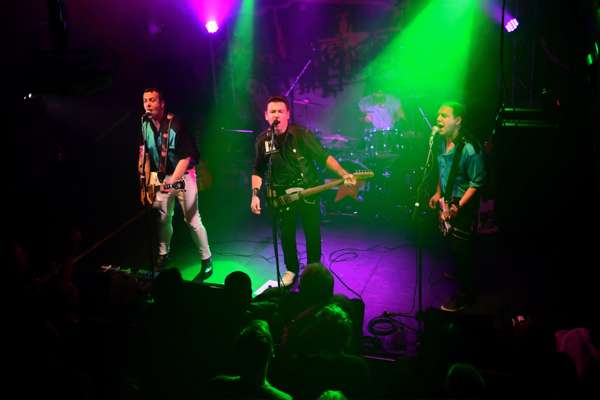 WHO KILLED NANCY JOHNSON? are a​ ​​​Reading-based high-energy ​punk/post-punk band with a growing reputation as an incendiary live act.
"It's really worth getting to see these guys" - Punkarolla
Influences include The Ruts, Wire, Magazine, Black Flag, Fugazi, Killing Joke.
"Powerful yet melodic... this lot would be well received up Blackpool on the Rebellion line up" - Lights Go Out
The songs - apart from one cover that pops up in the live set from time to time - are original.
"A brilliant band... full of energy... a really cool post-punk feel" - New Music Saturday
Formed in Reading (UK) in 2015 from the embers of punk/pop band Nancy Johnson, the change of name mirrored a development from the frat-boy approach of Nancy Johnson to a more edgy and aggressive sound.
"A style that is quite unique... pour out a huge amount of energy... if you get the chance, go see 'em" - Plasma Music TV
Since 2016 the band has gigged at multiple venues in Reading, Basingstoke, Oxford, Guildford, High Wycombe, Kingston, London, Brighton, Chatham, Southampton, St Albans, Colchester and Cirencester, releasing their first EP, Cops and Robbers, in January 2017.
"Spiked with amphetamines... a band that embraces punk's origins as well as influences from the last four decades" - thePUNKsite
In late 2017 WKNJ made their first visit outside the UK with a couple of dates in Milan, and played a set for BBC Introducing LIVE.
"Quality stuff" - IssuePunkZine
In 2018 they toured France, released their second EP, Flat Earth Theory, followed by an eponymous full-length CD-only album that collects all their recorded work so far, including remixes and material not released elsewhere.
"Well worth checking out" - 4.52am
Most recently (September 2018) they released a single, They Reap, for Musicians Against Homelessness, followed by the They Reap Sessions EP in February 2019. A vinyl release via Sounds of the Suburbs is incoming later in the year.
"Jaw-droppingly good... more hooks than a deep sea fishing line" - Scene Sussex
Who Killed Nancy Johnson are Stefan BALL - vocals ; Dawid BYCHOWSKI - bass; Pete MOULTON - guitar; Mark WREN - drums. The question mark is optional.
"Bloody good... shades of Killing Joke" - RG New Music
View Profile