A Night of Punk and Noise
Who Killed Nancy Johnson? + Psychopomp (Reading) + Risking Nostalgia
Buy Tickets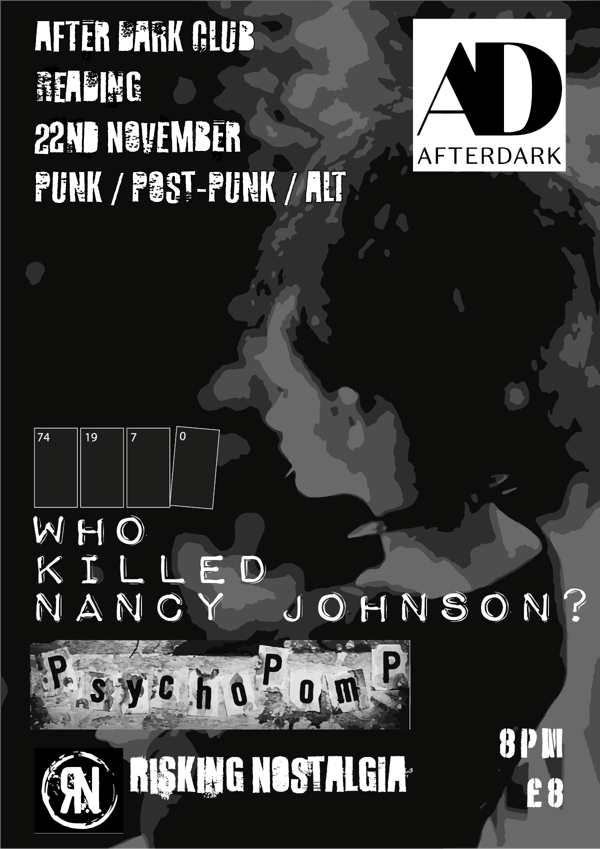 The After Dark Club presents three of the best bands performing in Reading live on stage.
Who Killed Nancy Johnson?- a high energy punk/post-punk band and an incendiary live act. Formed in 2015 they have been compared to Black Flag, Fugazi and the Adolescents.
PsychoPomP - a post-punk style band with synth sounds who draw inspiration from bands like Sabbath, New Model Army and Killing Joke.
Risking Nostalgia - a blue-esque rock band from London, they combine the old and new and awake echoes of Queens of the Stone Age and The Cure.
Entry £8 £11 (including a house drink) £16 (including 3 house drinks)
• TO CONTACT • Email: afterdarkclubreading@outlook.com Facebook: https://www.facebook.com/afterdarkreading/ Instagram: https://www.instagram.com/afterdarkreading/ Twitter: https://twitter.com/AfterDarkRG1
Strictly over 18s [Photo ID required] The After Dark Club promotes responsible drinking. Visit: www.drinkaware.co.uk
Line Up
WHO KILLED NANCY JOHNSON? are a​ ​​​Reading-based high-energy ​punk/post-punk band with a growing reputation as an incendiary live act.
"It's really worth getting to see these guys" - Punkarolla
Influences include The Ruts, Wire, Magazine, Black Flag, Fugazi, Killing Joke.
"Powerful yet melodic... this lot would be well received up Blackpool on the Rebellion line up" - Lights Go Out
The songs - apart from one cover that pops up in the live set from time to time - are original.
"A brilliant band... full of energy... a really cool post-punk feel" - New Music Saturday
Formed in Reading (UK) in 2015 from the embers of punk/pop band Nancy Johnson, the change of name mirrored a development from the frat-boy approach of Nancy Johnson to a more edgy and aggressive sound.
"A style that is quite unique... pour out a huge amount of energy... if you get the chance, go see 'em" - Plasma Music TV
Since 2016 the band has gigged at multiple venues in Reading, Basingstoke, Oxford, Guildford, High Wycombe, Kingston, London, Brighton, Chatham, Southampton, St Albans, Colchester and Cirencester, releasing their first EP, Cops and Robbers, in January 2017.
"Spiked with amphetamines... a band that embraces punk's origins as well as influences from the last four decades" - thePUNKsite
In late 2017 WKNJ made their first visit outside the UK with a couple of dates in Milan, and played a set for BBC Introducing LIVE.
"Quality stuff" - IssuePunkZine
In 2018 they toured France, released their second EP, Flat Earth Theory, followed by an eponymous full-length CD-only album that collects all their recorded work so far, including remixes and material not released elsewhere.
"Well worth checking out" - 4.52am
Most recently (September 2018) they released a single, They Reap, for Musicians Against Homelessness, followed by the They Reap Sessions EP in February 2019. A vinyl release via Sounds of the Suburbs is incoming later in the year.
"Jaw-droppingly good... more hooks than a deep sea fishing line" - Scene Sussex
Who Killed Nancy Johnson are Stefan BALL - vocals ; Dawid BYCHOWSKI - bass; Pete MOULTON - guitar; Mark WREN - drums. The question mark is optional.
"Bloody good... shades of Killing Joke" - RG New Music
View Profile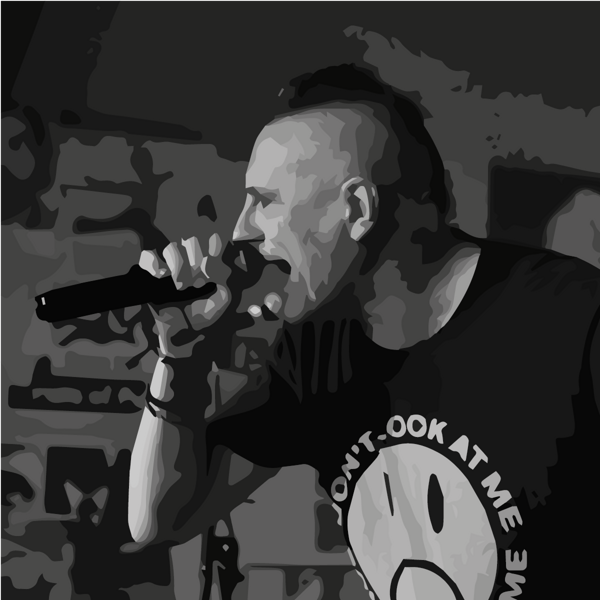 Psychopomp (Reading)
British four-piece, Risking Nostalgia, emerged from London in the summer of 2016. Lead by Jake Tempest (vocals, guitar); Ollie Rann (guitar), Liam Matthews (bass) and Charlie Kenny (drums) complete this new chapter in alternative rock. Collecting blues-esque styled rock rhythms under a chorus of soaring lead guitar, the band is described as combining old with the new to bring about a fresh sound inspired by innovators such as Queens of the Stone Age and The Cure.
Son the Desert, the band's first single, has showcased on eagle3 radio along with London Sadness following their self titled EP, released in 2018. Now writing more music, Risking Nostalgia has featured in numerous shows in London and continues to seek out new opportunities to bring their talent to the public. In 2018 they have played shows like the Haslemere Fringe Festival with other well-known artists like Scouting for Girls, Lucy Spraggan and The Real Thing.
View Profile