The Unholy Messtival III: Another Fine Mess
The Papashangos + Papa Shango + The Menstrual Cramps + Def Goldblum + Vertigo Violet + Who Killed Nancy Johnson? + Duck Thieves + Kiss My Acid + Syd.31 + The Band for Disease Control and Prevention + SNIDE + The Relitics + Spitting Feathers
Buy Tickets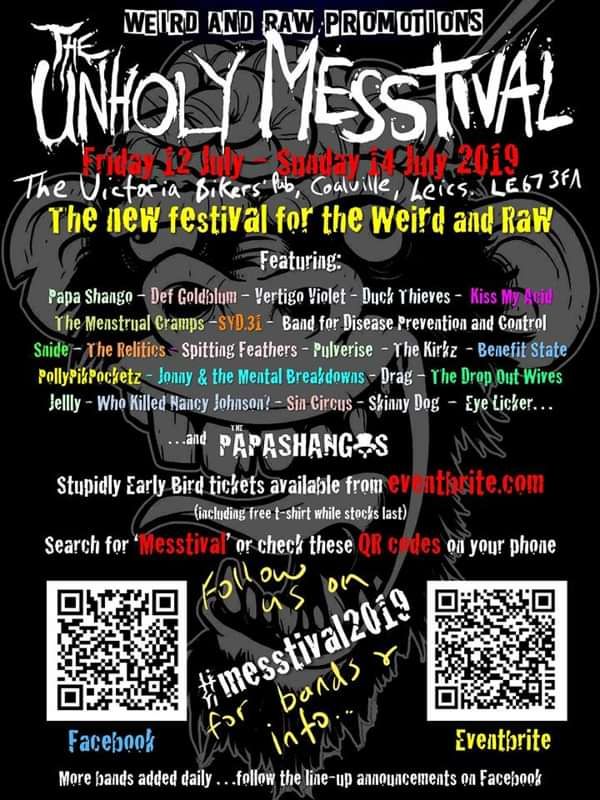 Trust us, those of you who have so far supported The Unholy Messtival ethos are going to want to get your 2019 tickets as early as possible.
We're currently chasing two acts (a year in advance) who will probably sell out advance tickets very quickly.
Order now and you get a weekend ticket and a t-shirt at a ridiculous price. Wait too long and the price will go up and the t-shirt deal will end.
We are so excited and we genuinely want to make sure that you, our loyal supporters, don't miss out... https://www.eventbrite.co.uk/e/the-unholy-messtival-iii-another-fine-mess-tickets-47800905796
"But who's playing?" I hear you cry. Well, so far, apart from the two BIG acts we're talking to, we have...finally going head-to-head in the Shango-off of the century...
THE PAPASHANGOS
punkrockmayhem
Vs Papa Shango
circusrock
PLUS...
The Menstrual Cramps Def Goldblum Vertigo Violet Sin Circus Skinny Dog Jonny & The Mental Breakdowns Pulverise Benefit State THE KIRKZ Spitting Feathers Duck Thieves DRAG SNIDE and many more!
The Victoria Bikers Pub Whitwick Road Coalville Liecestershire LE67 3FA
Line Up
The Papashangos
Papa Shango
The Menstrual Cramps
Def Goldblum
Vertigo Violet
WHO KILLED NANCY JOHNSON? are a​ ​​​Reading-based high-energy ​punk/post-punk band with a growing reputation as an incendiary live act.
"It's really worth getting to see these guys" - Punkarolla
Influences include The Ruts, Wire, Magazine, Black Flag, Fugazi, Killing Joke.
"Powerful yet melodic... this lot would be well received up Blackpool on the Rebellion line up" - Lights Go Out
The songs - apart from one cover that pops up in the live set from time to time - are original.
"A brilliant band... full of energy... a really cool post-punk feel" - New Music Saturday
Formed in Reading (UK) in 2015 from the embers of punk/pop band Nancy Johnson, the change of name mirrored a development from the frat-boy approach of Nancy Johnson to a more edgy and aggressive sound.
"A style that is quite unique... pour out a huge amount of energy... if you get the chance, go see 'em" - Plasma Music TV
Since 2016 the band has gigged at multiple venues in Reading, Basingstoke, Oxford, Guildford, High Wycombe, Kingston, London, Brighton, Chatham, Southampton, St Albans, Colchester and Cirencester, releasing their first EP, Cops and Robbers, in January 2017.
"Spiked with amphetamines... a band that embraces punk's origins as well as influences from the last four decades" - thePUNKsite
In late 2017 WKNJ made their first visit outside the UK with a couple of dates in Milan, and played a set for BBC Introducing LIVE.
"Quality stuff" - IssuePunkZine
In 2018 they toured France, released their second EP, Flat Earth Theory, followed by an eponymous full-length CD-only album that collects all their recorded work so far, including remixes and material not released elsewhere.
"Well worth checking out" - 4.52am
New recording are planned for late 2018/early 2019.
"Jaw-droppingly good... more hooks than a deep sea fishing line" - Scene Sussex
Who Killed Nancy Johnson are Stefan BALL - vocals; Pete MOULTON - guitar; Mark WREN - drums; Julien BRUINAUD - bass. The question mark is optional.
"Bloody good... shades of Killing Joke" - RG New Music
View Profile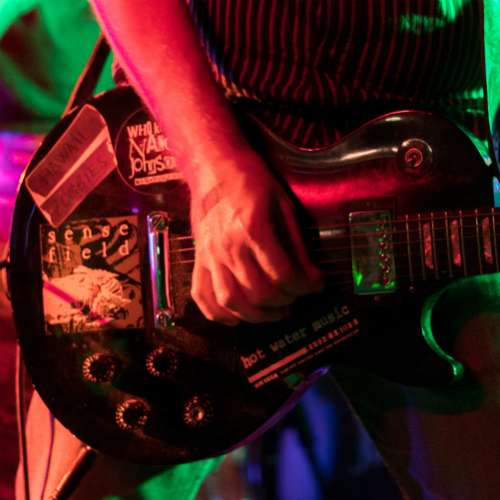 DUCK THIEVES are an upbeat theatrical indie band from Coventry. Comprising of 1 male and 4 female singers fronted by British born Chinese Justin Wing Chung Hui, They take influences from Sparks and the B52s with upbeat anthems. Their songs cover life, personal struggle and are beautifully personal but fun at the same time.
The band's live shows are like indie musicals with costume changes, choreographed dancing, short talks and raw punk energy.
They have released 3 EPs on local bedroom indie labels, have garnered airplay on BBC introducing Coventry and Warwickshire and marked out as best support act in 2017 by Birmingham Live!
For more information and goodies:
Technical Specs and Promotional Material
View Profile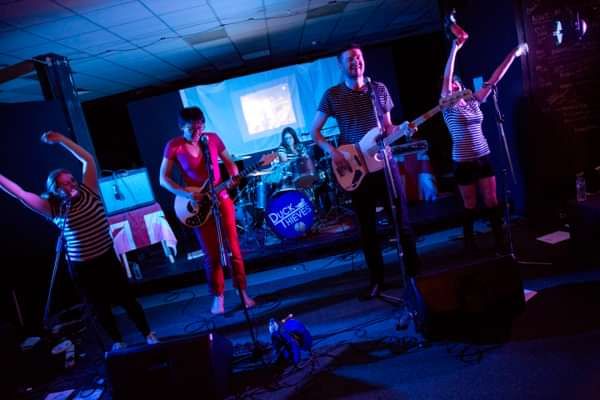 "Structured Chaos"
Kiss My Acid are a loud and snarling, three piece alternative grunge-punk band spawned from the slums of Ireland lead by brightly coloured crazy booze fuelled front woman Freda Conlon. Formed in June 2015, and already having released the debut EP entitled "Individuality" shortly followed by their very first full length album 'Fundamentally Ill' which was a touring success that managed to gather up quite a following of fans across the UK, they continue to make a name for themselves among the music industry and win the hearts of the punk scene. Although peppered with influences of bands such as the likes of Green Day, The Distillers and Nirvana, Kiss My Acid have a very unique sound with two minute power chord punky bursts of pure anger and frustration which can quickly switch to a more grungy dark demented vibe. Known for their boozey silly antics on stage and fast paced energetic live shows, Kiss My Acid are certainly a band to go check out!bold text
View Profile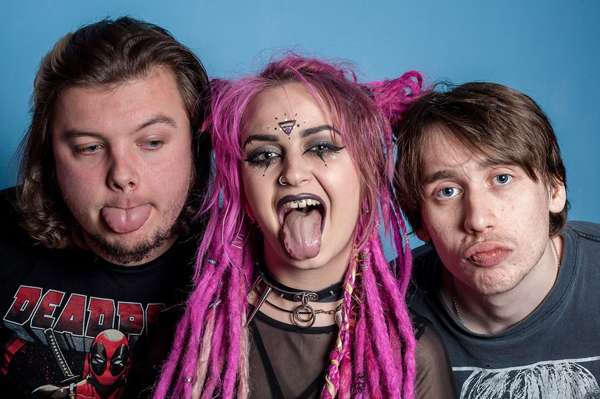 Syd,31 are a post apocalyptic punk-electro band, fusing industrial, metal, Drum 'n Bass, extreme punk, goth and techno. Formed four years ago, they earned a reputation in the underground scene for making people dance. Within a short time, they were appearing across the country, playing headlining gigs,and signed to a label all without even releasing a track. They have 100% record for people dancing at every gig they have performed. They have just completed a very sweaty UK headlining tour in the summer of 2016. 2017 sees the release of their first album, with quite a cult following already established, they intend to take their unique blend of rage to a new audience and make more people dance.
View Profile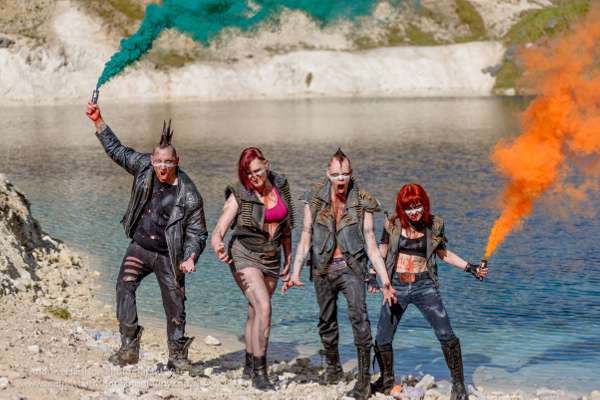 The Band for Disease Control and Prevention
SNIDE were conceived in Spain in 2007, brainchild of Nobby Emmerick, an ex pat Brit with a need to create noise in his chosen homeland, his instrument was the bass guitar but his music was punk and in Spain, as with pretty much any other country in the world, the word, and the music, was treated with both suspicion and contempt.
Following a series of both successful and woeful live appearances playing covers in a punk style it was decided that a change of direction was required and this led Nobby and his compadres to form the nascent SNIDE and begin writing songs of their own. Here was punk attitude being translated into music, rebelling against a situation which was of the protagonist's own doing.
In 2009 Nobby brought SNIDE back to the UK and set about playing relentlessly and shaping the band into the outfit they are today. Since that move many members have come and gone but stability began to be attained when, in 2014 Rob joined on guitar and Lou took over vocal duties bringing the feminine touch and an edge that had previously been missing.
By 2016 a scarcity of committed drummers very nearly put an end to the band until Alan Galaxy (a fan) happened to find out the band were lacking a skinsman and applied for (and landed) the post, this it appears has proved to be the final piece of the jigsaw.
The future is looking rosy now, an abundance of gigs are on the horizon and the band have recently been in the studio recording what is to become a limited edition EP which will simultaneously delight the faithful and enthrall any non believer who comes into contact with it.
As for punk…these days it is both an industry, and a state of mind….SNIDE are certainly on the latter train and continue to produce music which will in turn take you back to those heady days of the late 70s and remind you that the contemporary world is no better, and in many ways is worse than it was.
View Profile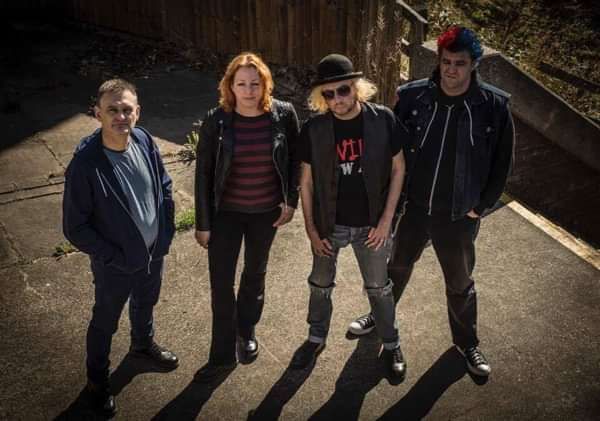 The Relitics are a punk band from Durham. Formed in late 2014 with Mick Hall (guitar/vocals), Carol Nichol (lead vocals), Neil Tunstall (bass/backing vocals) and Vince Ward (drums), The Relitics play punk with a heavy '70s influence and combine political lyrics with driving guitars. NE Volume magazine said of their debut album, "'Bricks and Mortals' provides a dynamic commentary on the current political discourse that is at the forefront of many of society's anxieties today. The band have not only provided listeners with a great rock album, but have also offered a compelling statement on the state of the country that is sure to linger in the minds of many, long after the final chords of the concluding track, 'Drift' have rang out." Since their formation The Relitics have supported The Vibrators, MDC, Ed Banger and the Nosebleeds, Chelsea, north east Oi! favourites Gimp Fist and will support Drongos For Europe later in 2016.
View Profile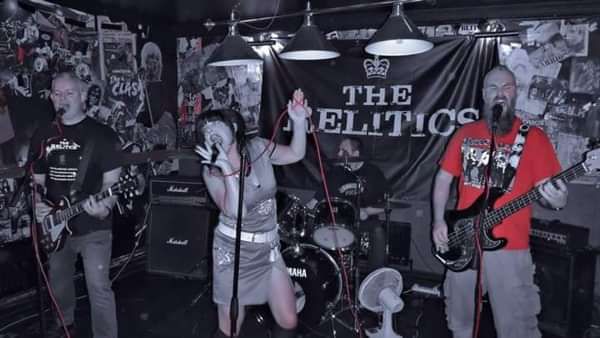 Spitting Feathers