Weathers Promotions presents:
Weathers Fest 2019
SISTERAY + MSRY + Who Killed Nancy Johnson? + I, The Lion + Tony Goff & The Broken Colours + The Freudian Session + Order#227
Buy Tickets
Three day festival of alternative, punk and metal, Friday to Sunday - see poster for line-up details. WKNJ are playing on the Saturday.
The Phoenix Bar Bridge Street High Wycombe HP11 2EL
Line Up
''BUTT-KICKIN' NEW PUNK'' Chris Hawkins, BBC 6 Music
​"Gnarly... sounds like the golden age of 2000s UK indie" Phil Taggart, BBC Radio 1
​"Like the young Oasis – if they'd read the broadsheets" –** Louder Than War**
As we come into 2018 Sisteray are establishing themselves as one of the most exciting live bands of the moment and have just been signed up by the Music Venue Trust to headline their event at the 100 Club in London in October.
In spring 2018 they will be releasing a new EP 'Sisteray Said' the follow up to their critically acclaimed '15 Minutes' project released in 2017 - where they band with producer Rory Atwell recorded exactly 15 minutes of music (5 tracks), edited exactly to the second and which recieved a glut of live reviews. God Is In The Zine said ""Exciting, full of attitude, educated and anarchic; and because it's the best new EP by an emerging band in years, with 15 Minutes Sisteray may hold the future of British guitar music in the palm of their hand just like Oasis and the Arctics before them. What they choose to do with it is entirely up to them."
April 2018. The first track 'Algorithm Prison' from the new EP has dropped and popping up as Track Of The Day everywhere, not least because of it's timely call out of social media (Facebook) algorithms.
Sisteray came together out of their shared love for bands such as The Smiths, Velvet Underground, The Clash, The Libertines and the words of Dr. John Cooper Clarke. This is proven in the upbeat melodies and lyrical observations of 21st century Britain, combined with high-octane live performances that have been key to making their live shows unmissable. They have recently built up their live audience through a series of #guerillagigs, using everything within their means to persuade promoters to let them have a first on slots at shows big and small, witnessed by Subculture describing:
"The night began with Sisteray playing yet another spontaneous Camden show, their effortless guitar riffs and high energy proves that the boys are a force to be reckoned with".
Sisteray often create pop-up guerrilla gigs, organising their own club night 'Welcome to the Monkey House' where they book the bands, promote the gig and often DJ, and have played roof raising sets at Camden Rocks and the Isle of Wight and Reading and Leeds festivals.
The bands belief and passion in their music, as well as their strong political views has been seldom seen since the days of The Clash; with Dan recently asked to appear on primetime BBC News, ITV and The Independent to voice his views on the recent Syria debate. ​
Word is beginning to spread in the likes of BBC Radio 1, Radio X, Fresh on the Net, Louder Than War, Artrocker, BBC 6 Music, Subculture, Gigslutz, Time Out and The Londonist.
"Punk rockers causing a buzz in their native London, sold out shows aplenty, and with a Rory Attwell (The Vaccines/Palma Violets) produced EP in the can and due for release soon, expect that to swell" - Fred Perry Subculture
View Profile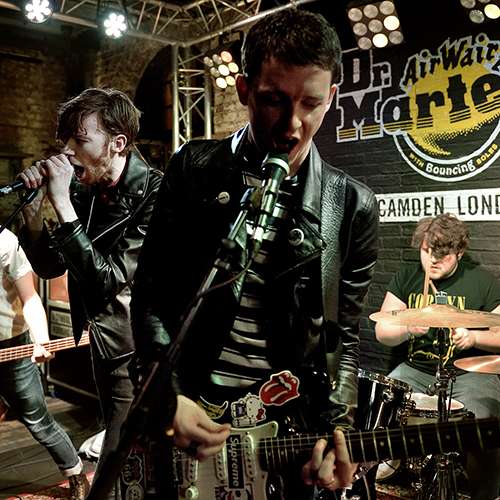 WHO KILLED NANCY JOHNSON? are a​ ​​​Reading-based high-energy ​punk/post-punk band with a growing reputation as an incendiary live act.
"It's really worth getting to see these guys" - Punkarolla
Influences include The Ruts, Wire, Magazine, Black Flag, Fugazi, Killing Joke.
"Powerful yet melodic... this lot would be well received up Blackpool on the Rebellion line up" - Lights Go Out
The songs - apart from one cover that pops up in the live set from time to time - are original.
"A brilliant band... full of energy... a really cool post-punk feel" - New Music Saturday
Formed in Reading (UK) in 2015 from the embers of punk/pop band Nancy Johnson, the change of name mirrored a development from the frat-boy approach of Nancy Johnson to a more edgy and aggressive sound.
"A style that is quite unique... pour out a huge amount of energy... if you get the chance, go see 'em" - Plasma Music TV
Since 2016 the band has gigged at multiple venues in Reading, Basingstoke, Oxford, Guildford, High Wycombe, Kingston, London, Brighton, Chatham, Southampton, St Albans, Colchester and Cirencester, releasing their first EP, Cops and Robbers, in January 2017.
"Spiked with amphetamines... a band that embraces punk's origins as well as influences from the last four decades" - thePUNKsite
In late 2017 WKNJ made their first visit outside the UK with a couple of dates in Milan, and played a set for BBC Introducing LIVE.
"Quality stuff" - IssuePunkZine
In 2018 they toured France, released their second EP, Flat Earth Theory, followed by an eponymous full-length CD-only album that collects all their recorded work so far, including remixes and material not released elsewhere.
"Well worth checking out" - 4.52am
Most recently (September 2018) they released a single, They Reap, for Musicians Against Homelessness. A vinyl release via Sounds of the Suburbs is incoming late 2018/early 2019.
"Jaw-droppingly good... more hooks than a deep sea fishing line" - Scene Sussex
Who Killed Nancy Johnson are Stefan BALL - vocals; Pete MOULTON - guitar; Mark WREN - drums; Julien BRUINAUD - bass. The question mark is optional.
"Bloody good... shades of Killing Joke" - RG New Music
View Profile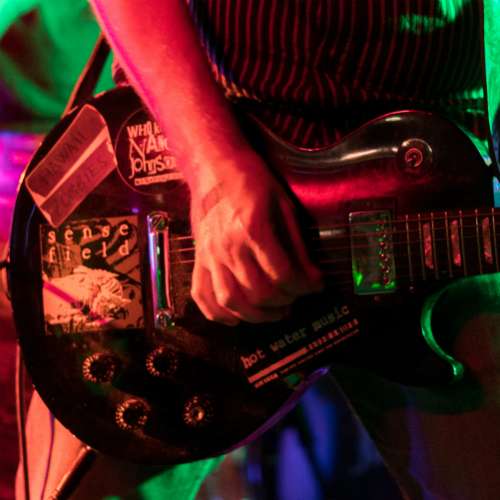 I, The Lion
Tony Goff and The Broken Colours are back and bringing the party with them! The four piece Indie, Pop, Rock band formed back in 2013 and have been working relentlessly to break the scene since. The boys from Bucks have performed with the likes of Wretch 32, The Feeling, Jaguar Skills, The Ordinary Boys and most recently The Blockheads. Tony, Kieran, Rhannon and Andy have been backed by BBC Introducing from the start and have been featured on the bill for Camden Rocks Festival and more recently, Pain De Castaldi festival in Italy. Following the release of their second Ep in March 2017 the boys have been planning something special for their album. They are always up for a drink and a laugh, so next time you see them go and say hello
View Profile

The Freudian Session
Order#227