Zooparty UK Tour
Zooparty + Ambition Demolition + Who Killed Nancy Johnson?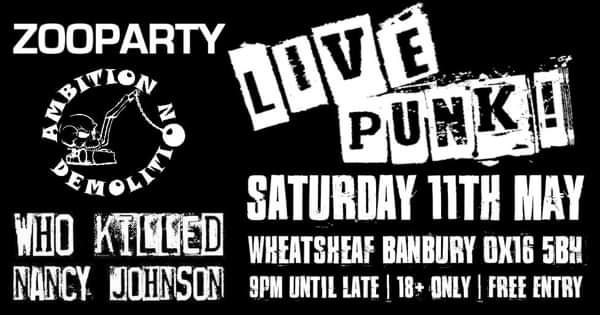 LIVE PUNK!
ZOOPARTY
Swedish punk band whose recordings have featured guests such as Glen Matlock (Sex Pistols), Brian James (The Damned) and Bruce Kulick (Grand Funk Railroad/Kiss). Zooparty are traditional punk - all meaty riffs, catchy choruses, and irresistible tunes. Frontman Erik Pettersson is a superb guitarist in his own right, his licks matching the barbed lyrical attacks. https://deadlambrecords.bandcamp.com/album/zooparty-lardass
AMBITION DEMOLITION
Formed in 2016 punk and rollers Ambition Demolition have supported a load of well-known bands including UK Subs, The Lurkers, Subhumans, DeRellas, Hands Off Gretel, and Reno Divorce from the States. They've also featured on festival stages including Bash the Bishop, Degeneration, Juzbcuz, No More Heroes, and Rebellion. https://www.facebook.com/AmbitionDemolition
WHO KILLED NANCY JOHNSON?
Reading-based high-energy ​original punk/post-punk band and an incendiary live act. "Pour out a huge amount of energy... if you get the chance, go see 'em" - Plasma Music. "Jaw-droppingly good" - Scene Sussex. https://www.facebook.com/WhoKilledNancyJohnson
9pm until Late | Free Entry | 18+ only
Line Up
Zooparty
Ambition Demolition
WHO KILLED NANCY JOHNSON? are a​ ​​​Reading-based high-energy ​punk/post-punk band with a growing reputation as an incendiary live act.
"It's really worth getting to see these guys" - Punkarolla
Influences include The Ruts, Wire, Magazine, Black Flag, Fugazi, Killing Joke.
"Powerful yet melodic... this lot would be well received up Blackpool on the Rebellion line up" - Lights Go Out
The songs - apart from one cover that pops up in the live set from time to time - are original.
"A brilliant band... full of energy... a really cool post-punk feel" - New Music Saturday
Formed in Reading (UK) in 2015 from the embers of punk/pop band Nancy Johnson, the change of name mirrored a development from the frat-boy approach of Nancy Johnson to a more edgy and aggressive sound.
"A style that is quite unique... pour out a huge amount of energy... if you get the chance, go see 'em" - Plasma Music TV
Since 2016 the band has gigged at multiple venues in Reading, Basingstoke, Oxford, Guildford, High Wycombe, Kingston, London, Brighton, Chatham, Southampton, St Albans, Colchester and Cirencester, releasing their first EP, Cops and Robbers, in January 2017.
"Spiked with amphetamines... a band that embraces punk's origins as well as influences from the last four decades" - thePUNKsite
In late 2017 WKNJ made their first visit outside the UK with a couple of dates in Milan, and played a set for BBC Introducing LIVE.
"Quality stuff" - IssuePunkZine
In 2018 they toured France, released their second EP, Flat Earth Theory, followed by an eponymous full-length CD-only album that collects all their recorded work so far, including remixes and material not released elsewhere.
"Well worth checking out" - 4.52am
Most recently (September 2018) they released a single, They Reap, for Musicians Against Homelessness. A vinyl release via Sounds of the Suburbs is incoming late 2018/early 2019.
"Jaw-droppingly good... more hooks than a deep sea fishing line" - Scene Sussex
Who Killed Nancy Johnson are Stefan BALL - vocals; Pete MOULTON - guitar; Mark WREN - drums; Julien BRUINAUD - bass. The question mark is optional.
"Bloody good... shades of Killing Joke" - RG New Music
View Profile