No Nation Punk presents:
1919 plus support
1919 + Who Killed Nancy Johnson? + THE GO GO CULT + Darklands DJ Set by Steve Reynolds
Buy Tickets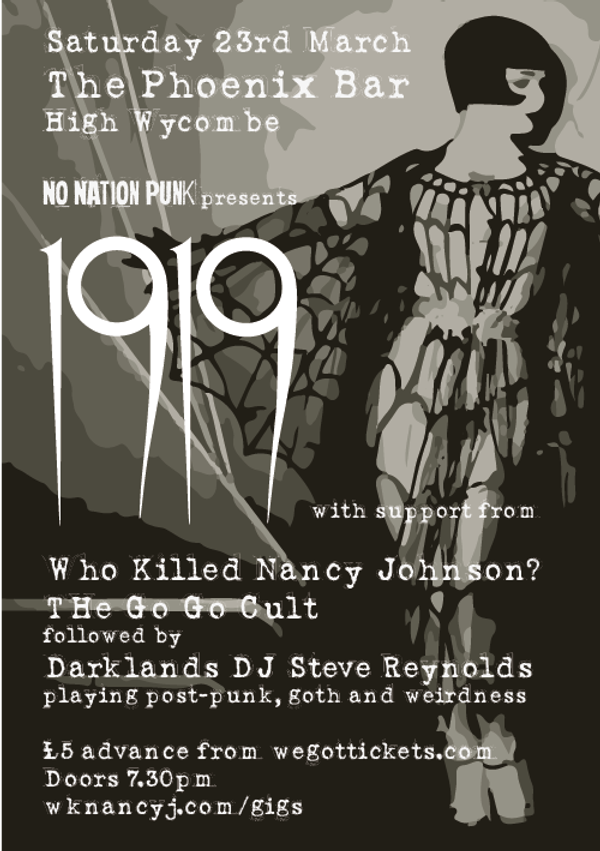 1919
1919 were an early contributor to what became the Goth genre. They had chart success with the singles "Caged", "Repulsion" and "Cry Wolf" as well as the 1984 LP "Machine", and recorded two Peel Sessions.
In 2014, founding guitarist Mark Tighe reformed the band, including original drummer Mick Reed. Two European tours and a host of festival appearances later, 1919 signed a deal with Westworld Recordings in 2016 to release a new album, "Bloodline", 35 years after their first.
Sadly in January 2017 Tighe lost a short battle with cancer, leaving a chasm at the heart of the band. Having insisted the others carry on in his absence though, Mick, Rio, and Karl had to do justice to the album, and to the memory of their fallen comrade.
Bloodline was released to critical acclaim in 2017. "Good goths come to those that wait," wrote Vive le Rock's Pete Woods in an 8/10 review, while LouderThanWar said, "'Bloodline' will bewitch you", and Sonic Seducer called its "nightmarish-hypnotic gloom" a "fitting tribute" to Tighe's legacy. In April that year the band confirmed that Sam Evans would be their new full-time guitarist, and began touring the new album to rave reviews.
In 2018 Bloodline was released on limited edition red vinyl, featuring two additional tracks ("D.N.A" and "A Hymn to the Night") recorded with Mark, and the band are already confirmed for major festival appearances in 2019. This is a rare chance to see them up close in a small venue.
WITH SUPPORT FROM
Who Killed Nancy Johnson?
Incendiary punk/post-punk from Reading.
The Go Go Cult
50's psychedelic punk.
AND FOLLOWED BY
Darklands DJ set by Steve Reynolds
Darklands club night supremo Steve Reynolds closes the evening playing a mix of less obvious alternative music from Goth to Electronica to Post Punk from the likes of Bauhaus, Bowie, BSP, Buzzcocks, Cabaret Voltaire, Clash, Cocteaus, Cramps, Cult, Cure, Damned, Depeche Mode, Dexys, Fall, Flaming Lips, FNM, Fugazi, Gang of Four, Goat, Go!Team, Horrors, Human League, Interpol, Joy Division, Kraftwerk, LCD, Lemonheads, Liars, Loop, Mary Chain, MBV, Mogwai, Mudhoney, New Order, Numan, Pavement, Pixies, PIL, Psychedelic Furs, PWEI, Roxy, Ride, Simple Minds, Siouxsie, Sisters, Slits, Smiths, Soft Cell, Sonic Youth, Sparks, Stooges, Stranglers, Talking Heads, Talk Talk, Twilight Sad, Weddoes, Wire, XTC...
The Venue
Phoenix Bar Bridge Street High Wycombe Buckinghamshire HP11 2EL
The Phoenix Bar is a true punk venue with a great selection of beer. Support it!
Age policy is relatively relaxed. Under 16's are allowed to stay in the venue until midnight but must have a responsible adult with them. If you don't look obviously older than 25, carry ID (actual passport, driving licence or citizen card) to avoid problems.
Line Up
1919
WHO KILLED NANCY JOHNSON? are a​ ​​​Reading-based high-energy ​punk/post-punk band with a growing reputation as an incendiary live act.
"It's really worth getting to see these guys" - Punkarolla
Influences include The Ruts, Wire, Magazine, Black Flag, Fugazi, Killing Joke.
"Powerful yet melodic... this lot would be well received up Blackpool on the Rebellion line up" - Lights Go Out
The songs - apart from one cover that pops up in the live set from time to time - are original.
"A brilliant band... full of energy... a really cool post-punk feel" - New Music Saturday
Formed in Reading (UK) in 2015 from the embers of punk/pop band Nancy Johnson, the change of name mirrored a development from the frat-boy approach of Nancy Johnson to a more edgy and aggressive sound.
"A style that is quite unique... pour out a huge amount of energy... if you get the chance, go see 'em" - Plasma Music TV
Since 2016 the band has gigged at multiple venues in Reading, Basingstoke, Oxford, Guildford, High Wycombe, Kingston, London, Brighton, Chatham, Southampton, St Albans, Colchester and Cirencester, releasing their first EP, Cops and Robbers, in January 2017.
"Spiked with amphetamines... a band that embraces punk's origins as well as influences from the last four decades" - thePUNKsite
In late 2017 WKNJ made their first visit outside the UK with a couple of dates in Milan, and played a set for BBC Introducing LIVE.
"Quality stuff" - IssuePunkZine
In 2018 they toured France, released their second EP, Flat Earth Theory, followed by an eponymous full-length CD-only album that collects all their recorded work so far, including remixes and material not released elsewhere.
"Well worth checking out" - 4.52am
Most recently (September 2018) they released a single, They Reap, for Musicians Against Homelessness. A vinyl release via Sounds of the Suburbs is incoming late 2018/early 2019.
"Jaw-droppingly good... more hooks than a deep sea fishing line" - Scene Sussex
Who Killed Nancy Johnson are Stefan BALL - vocals; Pete MOULTON - guitar; Mark WREN - drums; Julien BRUINAUD - bass. The question mark is optional.
"Bloody good... shades of Killing Joke" - RG New Music
View Profile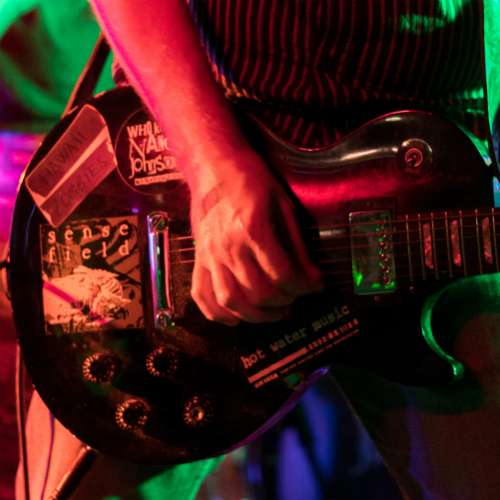 THE GO GO CULT – PRESS PACK
Formed in 2010 and hailing from Reading, we are the Go Go Cult. Our mission is to spread our distinctive and Wild brand of sleazy Hypnotic 50s psycho-delic garage punk and to warp minds with our infectious rhythms wherever we appear. "……..The chemical mix is explosive. And it will shake your pants." Raw Ramp Mag, July 2012 This is us: Go Go Nige: Voice of the dead, hypnotic rhythm, tremolo and fuzz guitar Go Go Matt: Ambassador of screaming lead guitar and werewolf howls Go Go Johnny: Hypno rhythm and voodoo beats (Ex Vibes/Purple Things) Go Go Leo: Chief of the low end swamp bass rumble and banshee screams
Music genres: Alternative garage punk, psychobilly, surf, rockabilly, trash "Dealing in' 80s sleaze, '50s swagger and '70s salaciousness, Reading's The Go Go Cult are an ambitious upcoming band with their fingers in a number of musical pies…….." Tom Williams, Vive Le Rock Magazine
Who do we sound like? Think the Cramps, Rezillos, Link Wray, The Tall Boys/Early Meteors a bit of surf guitar (Dick Dale and the Del-Tones, The Surfaris) with a touch of Johnny Cash and Siouxsie mixed in. "50s psychedelic punk, anyone? Yes. Go Go Cult sound like being in a 1950s motorbike gang in America, pushed to the musical limits from the constant threat of nuclear holocaust." Tim Hooper for BBC Introducing @ The Oakford Social Club.
Listen to us Here: http://www.youtube.com/watch?v=c3xB3QfyP4k & Here:
Albums: The Go Go Cult signed to the legendary Western Star Records in 2012 and have released two critically acclaimed albums 'Into The Valley Of The Go Go Cult' and 'This is The Voice Of The Go Go Cult' with a 10" mini pink vinyl album – Headhunter released in February 2016. Trash Wax Records from Ireland recently licensed the first album from Western Star to press 500 copies in vinyl format which they released in November 2015 and it's selling fast ! The new album The Beat Of The Go Go Cult is due for release in January 2017 on Western Star Records ! Albums Reviewed in Vive Le Rock, Big Cheese, Scootering, VintageRock, UK Rock & Roll Magazine, Wreckingpit.com, Isolation Magazine, Mad Music For Bad People Magazine and more. Live: The Go Go Cult have played numerous festivals including: Blast Off Festival (2011), Bearded Theory (2012), BoomTown (2011 & 2012), Bedlam Breakout (2010 & 2013), Farmfest (2013) and more. Festival reviews covered by Louder Than War (Bearded Theory), themodgeneration.com (Blast Off), Raw Ramp Magazine (BoomTown) The Boys have also played on Bills with numerous bands such as Adam Ant, The Damned, 999, The Selecter, The Fuzztones, Creepshow, The Meteors, Glen Matlock, The Sharks, King Kurt, The Guana Batz, Barrence Whitfield & The Savages, Kid Congo & The Pink Monkey Birds, The Rezurex, The Highliners, The Membranes, Chelsea, Gaye Bykers On Acid, Sex Gang Children, The Peacocks, Demented Are Go, Frantic Flintstones, The Long Tall Texans & The Inca Babies to name but a few. Gigging around the UK at various venues: The Fleece (Bristol), BBC Introducing (Reading), The Wedgewood Rooms (Portsmouth), Queens Hall, (Narbeth), Green Door Store (Brighton), Zombie Hut, (Northants), The Doghouse, (Nottingham), The Dome (London)….and so many more Other Promotion: The Go Go Cult appear in a book entitled "Western Star Recording Company – The First Decade" where two pages are dedicated to all things Go Go ! The Go Go Cult appear on the covermount CD for the Christmas 2012 edition of Vive Le Rock Magazine The Go Go Cult have a dedicated 7 Page Feature in Issue 4 (Jan 2016) of Mad Music For Bad People Mag Radio play on BBC6 Music, BBC Radio 2 and BBC Radio Berkshire plus numerous internet radio stations Contact us Nigel Poole: nigefruit@btinternet.com Nicky Strange: newmindpromotions1@gmail.com Website: http://thegogocult.com/GoGoCultSite/Welcome.html SoundCloud: https://soundcloud.com/thegogocult Facebook: https://www.facebook.com/pages/The-Go-Go-Cult
GO GO MUSIC FOR GO GO PEOPLE !
View Profile

Darklands DJ Set by Steve Reynolds