No Nation Punk presents:
Day 69 Punk
The Overload + Who Killed Nancy Johnson? + Red Terror (Sussex) + Spinner Fall + Doctor Gonzo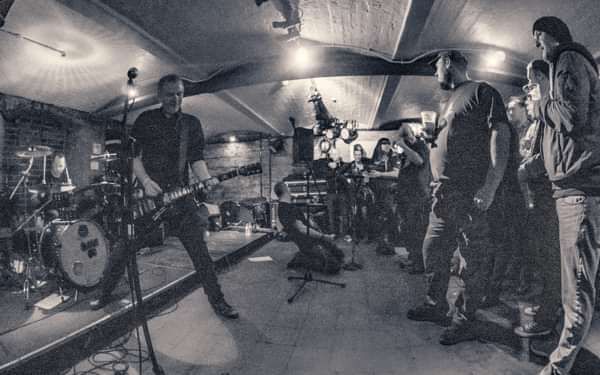 Come celebrate the 69th day of 2019 by drinking and moshing at a No Nation Punk late afternoon/early evening blaster by the sea. Donation on the door as you arrive or leave - pay what you want and can afford - no pressure if you're broke.
Featuring, in alphabetical order:
Doctor Gonzo
Brand new ska/punk from Worthing. www.facebook.com/officialdoctorgonzo
The Overload
Could just say "best new band in Oxford" 17 times, but instead here's Nightshift's review: "Shaven-headed frontman Arthur Osofksy stalks onstage and opens the show with some deadpan poetry about frozen food like some offspring of John Cooper Clarke before the band crank out tight, punked-up krautrock rhythms over which he hectors the audience, a swaggering mix of attitude and nervous energy. Early reports likened them to Sleaford Mods and there's a similar sense of disgust at the world in the words, but really they're closer to Squirrel and G-Man-era Happy Mondays, particularly 'Lucky Man'. Hands in pockets, reading his rhymes form a crib sheet, Osofsky has an air of chaos about him, matched at time by the band who can switch from meandering Crazy Horse-style riffs into militant, staccato punk, throwing paint splatters of The Fall, The Sex Pistols and even Crass into the mix".
www.facebook.com/The-Overload-1741973219225901/
Red Terror
"The raw visceral power of Bad Brains... vocals at the point of blowout... mixed with angular guitar work and moments of quiet, heavy bass-driven verses" - Punktastic
Spinner Fall
Intense, intelligent post-punk that marries hypnotic riff-filled guitar noise with abrasive vocals - FFO of The Fall and the noisier more interesting ends of shoegaze. www.facebook.com/spinnerfallband
Who Killed Nancy Johnson?
An incendiary live act from Reading, in the aggressive art-punk tradition of early Wire, Killing Joke, Black Flag and Fugazi. ""Jaw-droppingly good" - Scene Sussex. "Bloody good... shades of Killing Joke" - RG New Music. www.facebook.com/whokillednancyjohnson
Be there from 5pm. Bands start 5.30pm. Last band finished by 9pm. Excellent bar open til 10pm for a wind-down drink.
Current event photo by Andrew Merritt Photography.
Line Up
The Overload
WHO KILLED NANCY JOHNSON? are a​ ​​​Reading-based high-energy ​punk/post-punk band with a growing reputation as an incendiary live act.
"It's really worth getting to see these guys" - Punkarolla
Influences include The Ruts, Wire, Magazine, Black Flag, Fugazi, Killing Joke.
"Powerful yet melodic... this lot would be well received up Blackpool on the Rebellion line up" - Lights Go Out
The songs - apart from one cover that pops up in the live set from time to time - are original.
"A brilliant band... full of energy... a really cool post-punk feel" - New Music Saturday
Formed in Reading (UK) in 2015 from the embers of punk/pop band Nancy Johnson, the change of name mirrored a development from the frat-boy approach of Nancy Johnson to a more edgy and aggressive sound.
"A style that is quite unique... pour out a huge amount of energy... if you get the chance, go see 'em" - Plasma Music TV
Since 2016 the band has gigged at multiple venues in Reading, Basingstoke, Oxford, Guildford, High Wycombe, Kingston, London, Brighton, Chatham, Southampton, St Albans, Colchester and Cirencester, releasing their first EP, Cops and Robbers, in January 2017.
"Spiked with amphetamines... a band that embraces punk's origins as well as influences from the last four decades" - thePUNKsite
In late 2017 WKNJ made their first visit outside the UK with a couple of dates in Milan, and played a set for BBC Introducing LIVE.
"Quality stuff" - IssuePunkZine
In 2018 they toured France, released their second EP, Flat Earth Theory, followed by an eponymous full-length CD-only album that collects all their recorded work so far, including remixes and material not released elsewhere.
"Well worth checking out" - 4.52am
Most recently (September 2018) they released a single, They Reap, for Musicians Against Homelessness. A vinyl release via Sounds of the Suburbs is incoming late 2018/early 2019.
"Jaw-droppingly good... more hooks than a deep sea fishing line" - Scene Sussex
Who Killed Nancy Johnson are Stefan BALL - vocals; Pete MOULTON - guitar; Mark WREN - drums; Julien BRUINAUD - bass. The question mark is optional.
"Bloody good... shades of Killing Joke" - RG New Music
View Profile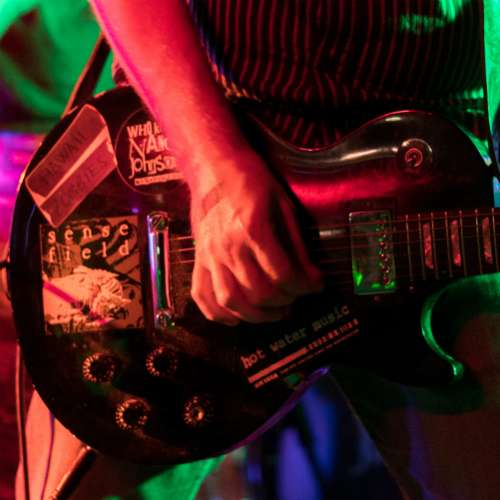 Red Terror (Sussex)
Spinner Fall deliver an intensely turbulent noise that somehow marries shoegaze glissando with a postpunk brittleness and a throatshreddingly hectoring vocal delivery that can variously remind you of Ride, Husker Du and The Fall, all at the same time.
View Profile

Doctor Gonzo