An Alternative Gathering presents:
Punk Sunday 2
Hazard (Luton) + Who Killed Nancy Johnson? + Dog Rotten + Rebel Station + The Devil Cocks + Rocket66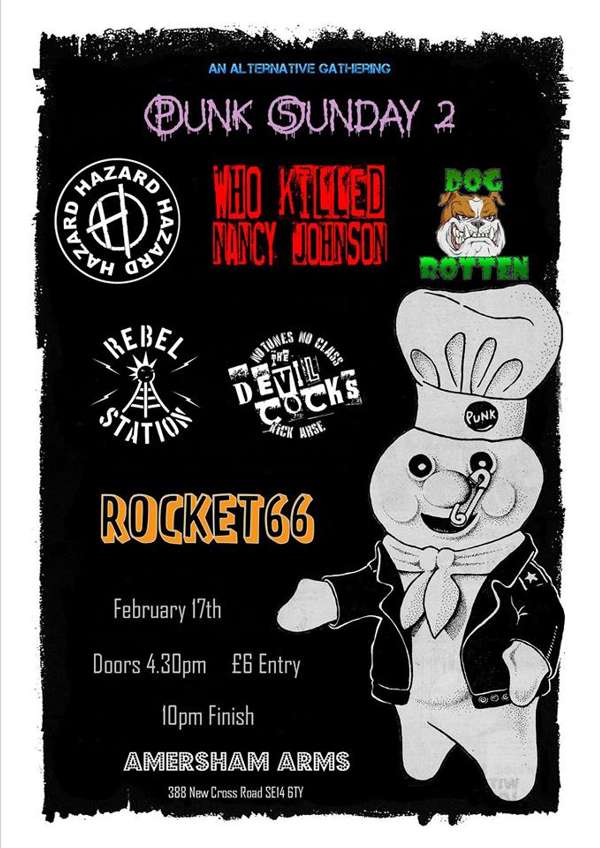 An Alternative Gathering bring you another edition of Punk Sunday. Six excellent bands, a 5pm start and a 10pm finish.
Vegan roasts served from around 4pm.
Doors 4.30pm £6 Entry
Hazard
A young band from Luton, formed in 2010. Rough yet catchy vocals, knuckle dragging guitar riffs, driving bass and drums as loud as howitzers; HAZARD deliver a gut punching set. Audiences have likened us to bands such as The Clash, Stiff Little Fingers, Nirvana, Manic Street Preachers and your favorite bands. https://www.facebook.com/hazardbanduk http://www.hazardofficial.com
Who Killed Nancy Johnson?
A Reading punk band, sometimes leaning into post-punk, sometimes a bit hardcore, sometimes a bit post-hardcore. Occasionally bits of goth creep in. The lyrics are sometimes political and sometimes philosophical - then it gets fast and vicious. A punk band. https://www.facebook.com/WhoKilledNancyJohnson https://www.wknancyj.com
Dog Rotten
5 piece dirty punk rap rock and roll from London/Kent. Influences include The Ramones, Motorhead, Chuck Berry, Buck Cherry, SASH! Marijuana, Class A's and Class bitches! https://www.facebook.com/DogRotten https://dogrotten.bandcamp.com
Rebel Station
Three Piece Rebel Station are a high energy, Punk Rock n Roll band, electrifying stages across the country, playing original songs at a frenetic pace. Dual lead vocals and mosh pit inducing, 4/4 tempos, ensure the band leave punters wanting more wherever they play. https://www.facebook.com/rebelstation.uk http://www.rebelstation.uk
The Devil Cocks
Three men, one woman from the wastelands of england. and lovely brighton. the Incredible Johnny Xed, sister Alice Malice, The Embarassing Steve "The Rim" Vain, and the All out human Drum Machine, Spider. Playing punk rock, making obnoxious jokes and sporadicially doing anything at all with their talents.
Rocket66
It started in 2014 when Dave, Rocky and Calle were playing together in the latest incarnation of seminal British punk rock band The Fits (now dormant). When the group broke up, Carl, Rocky and Dave continued to write songs and record demos with no other goal than just to have fun and see what happened. Dave's mate Alex Love heard some tracks and offered to help with lyrics and vocals, and Rocket 66 was born! Rocket66 is now busy with rehearsing and recording their debut album together with legendary record producer Dave Allen (The Cure, The Mission, The Members and many many others) to be released in the early summer of 2019. https://www.facebook.com/rckt66 https://www.rocket66.co.uk
Amersham Arms 388 New Cross Road London SE14 6TY
Line Up
Hazard (Luton)
WHO KILLED NANCY JOHNSON? are a​ ​​​Reading-based high-energy ​punk/post-punk band with a growing reputation as an incendiary live act.
"It's really worth getting to see these guys" - Punkarolla
Influences include The Ruts, Wire, Magazine, Black Flag, Fugazi, Killing Joke.
"Powerful yet melodic... this lot would be well received up Blackpool on the Rebellion line up" - Lights Go Out
The songs - apart from one cover that pops up in the live set from time to time - are original.
"A brilliant band... full of energy... a really cool post-punk feel" - New Music Saturday
Formed in Reading (UK) in 2015 from the embers of punk/pop band Nancy Johnson, the change of name mirrored a development from the frat-boy approach of Nancy Johnson to a more edgy and aggressive sound.
"A style that is quite unique... pour out a huge amount of energy... if you get the chance, go see 'em" - Plasma Music TV
Since 2016 the band has gigged at multiple venues in Reading, Basingstoke, Oxford, Guildford, High Wycombe, Kingston, London, Brighton, Chatham, Southampton, St Albans, Colchester and Cirencester, releasing their first EP, Cops and Robbers, in January 2017.
"Spiked with amphetamines... a band that embraces punk's origins as well as influences from the last four decades" - thePUNKsite
In late 2017 WKNJ made their first visit outside the UK with a couple of dates in Milan, and played a set for BBC Introducing LIVE.
"Quality stuff" - IssuePunkZine
In 2018 they toured France, released their second EP, Flat Earth Theory, followed by an eponymous full-length CD-only album that collects all their recorded work so far, including remixes and material not released elsewhere.
"Well worth checking out" - 4.52am
Most recently (September 2018) they released a single, They Reap, for Musicians Against Homelessness. A vinyl release via Sounds of the Suburbs is incoming late 2018/early 2019.
"Jaw-droppingly good... more hooks than a deep sea fishing line" - Scene Sussex
Who Killed Nancy Johnson are Stefan BALL - vocals; Pete MOULTON - guitar; Mark WREN - drums; Julien BRUINAUD - bass. The question mark is optional.
"Bloody good... shades of Killing Joke" - RG New Music
View Profile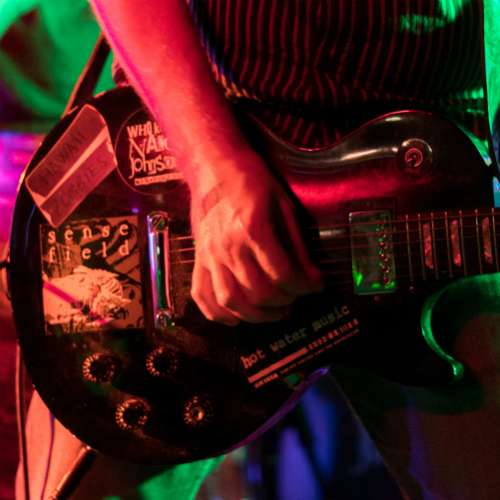 Dog Rotten
Rebel Station
Rocket66