No Nation Punk presents:
No Nation Punk presents PUNK
Who Killed Nancy Johnson? + Vacarm le Rouge + RainMen + Orange Bomb + Leave it Blank + The Black Bullets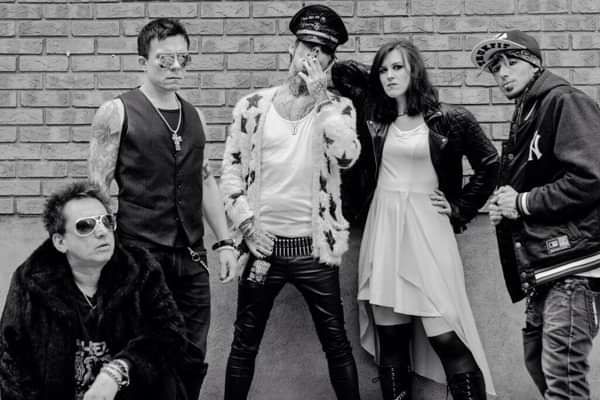 FREE admission and the chance to pay the bands direct during the show. This is a late-afternoon/early-evening show for a Sunday, with the music kicking off about 5.30 pm and all being done before 10 pm, so you can get home and get some sleep before you report to The Man on Monday morning.
Come the Revolution, though...
THE BANDS
In alphabetical order:
THE BLACK BULLETS - Low slung guitars, booze drenched vocals and high energy grooves are hallmarks of a Black Bullets performance. There is a growing scene of kick ass-bands tattooed sleaze bands in the UK, and the The Black Bullets are one of the best. "They drink, live, eat, throw up, sleep, breathe and drink Rock'n'Roll" - Sleaze Roxx.
LEAVE IT BLANK - Loads of UK bands have been inspired by Bowling for Soup, Weezer, Blink 182 etc., but few have the balls and sheer energy of Leave It Blank. They're grittier, noisier and dirtier than their influences might lead you to expect - and still have the melodies.
ORANGE BOMB - Possibly the perfect band to put on in an English seaside town, Orange Bomb are downbeat and bracing, their brilliant lyrics a mix of vox pop and nostalgia. It's pop punk of a sort - the band call it "heavy pop" - but pure 1970s punk in its honesty and DIY approach.
RAINMEN - Taking influence from Marmozets, Mr Bungle, Frank Carter, and Butthole Surfers, RainMen's chaotic fusion of fuzzy, rambling punk with experimental metal makes for an extraordinary live show that's not easy to forget. The UK's no. 1 filth band?
VACARM LE ROUGE - Three-piece speed-freak no nonsense political punk rock and roll from a classic Toulouse band currently celebrating its 30th year touring. Rarely seen in the UK, we're delighted to welcome them to Worthing for the first time.
WHO KILLED NANCY JOHNSON? - Since their first gigs at the start of 2016 Reading-based WKNJ have grown into one of the most exhilarating live bands on the circuit. Strong songs, constant movement and a touch of theatre. Not to be missed.
THE RUNNING ORDER
No Nation Punk doesn't book support acts! Be there ready to start at 5.30 pm and you won't miss anything.
THE PROMOTER
No Nation Punk is a non-profit DIY outfit bringing exciting UK and overseas punk bands to local venues. The price? You decide. It's free to come in, and once in you can listen for free and then pay the bands you choose, direct, whatever you want and can afford - or just buy their merch.
THE VENUE
Bar 42 has just had a face lift and a refit and opened again for music in the summer. Good selection of drinks, excellent sound system, intimate band area so you'll be up close and personal with the musicians. And the location is brilliant - step outside and you can see the sea - cross the road and down the pebble beach and you're in it.
Bar Forty Two, 42 Marine Parade, Worthing BN11 3QA https://www.facebook.com/FortyTwoWorthing 07717 826725
Line Up
WHO KILLED NANCY JOHNSON? are a​ ​​​Reading-based high-energy ​punk/post-punk band with a growing reputation as an incendiary live act.
"It's really worth getting to see these guys" - Punkarolla
Influences include The Ruts, Wire, Magazine, Black Flag, Fugazi, Killing Joke.
"Powerful yet melodic... this lot would be well received up Blackpool on the Rebellion line up" - Lights Go Out
The songs - apart from one cover that pops up in the live set from time to time - are original.
"A brilliant band... full of energy... a really cool post-punk feel" - New Music Saturday
Formed in Reading (UK) in 2015 from the embers of punk/pop band Nancy Johnson, the change of name mirrored a development from the frat-boy approach of Nancy Johnson to a more edgy and aggressive sound.
"A style that is quite unique... pour out a huge amount of energy... if you get the chance, go see 'em" - Plasma Music TV
Since 2016 the band has gigged at multiple venues in Reading, Basingstoke, Oxford, Guildford, High Wycombe, Kingston, London, Brighton, Chatham, Southampton, St Albans, Colchester and Cirencester, releasing their first EP, Cops and Robbers, in January 2017.
"Spiked with amphetamines... a band that embraces punk's origins as well as influences from the last four decades" - thePUNKsite
In late 2017 WKNJ made their first visit outside the UK with a couple of dates in Milan, and played a set for BBC Introducing LIVE.
"Quality stuff" - IssuePunkZine
In 2018 they toured France, released their second EP, Flat Earth Theory, followed by an eponymous full-length CD-only album that collects all their recorded work so far, including remixes and material not released elsewhere.
"Well worth checking out" - 4.52am
New recording are planned for late 2018/early 2019.
"Jaw-droppingly good... more hooks than a deep sea fishing line" - Scene Sussex
Who Killed Nancy Johnson are Stefan BALL - vocals; Pete MOULTON - guitar; Mark WREN - drums; Julien BRUINAUD - bass. The question mark is optional.
"Bloody good... shades of Killing Joke" - RG New Music
View Profile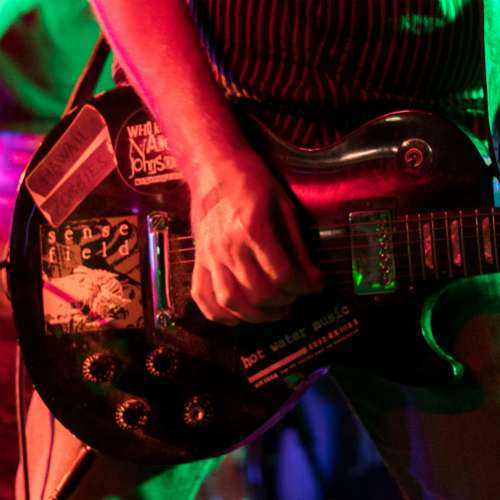 Vacarm le Rouge
RainMen are a chaotic four piece Punk band based in Brighton. Primarily drawing influence from bands such as Gallows, Mr Bungle, Don Caballero and Fugazi, RainMen like doing what they want and spreading the angry vibes through odd time signatures, aggressive bass and drums, rambling vocals and a lot of fuzz.
Bandcamp: https://rainmenuk.bandcamp.com/
Email: rainmenbrighton@gmail.com
View Profile

Orange Bomb
Leave it Blank
The Black Bullets